National Archives of Belgium
–
Service International and External Affairs
Contact
Rue de Ruysbroeck 2-61000 BRUSSELS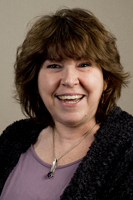 Biography
Having worked at the University of Brussels as a history researcher and PhD student (1991-1995), and from 1996 as part-time professor, Karin Van Honacker joined the Belgian State Archives in 1999 as an archivist in the State Archives in Antwerp.
In 2007 she moved to the National Archives in Brussels, since she was appointed head of the newly created department 'Communication and services to the public'.
From 2014 onwards, she is in charge of the international relations of the Belgian State Archives.
Being head of international relations at the State Archives, she does the follow-up – among other things – of the EU issues concerning archives (data protection, copyright, re-use of information, Horizon 2020) and of the ICA policy and strategy and she advises the national archivist as regards implementation and dissemination. She is also closely involved in the Archives Portal Europe project, since she's part of the Governing Board of the APE Foundation from its creation at the end of 2014 onwards.
Network
Lid van de Governing Board van de Stichting Archives Portal Europe Foundation (APEF)
Vice-voorzitter en secretaris van Eurbica
Lid van de Executive Board van de Europeana Foundation
Plaatsvervanger van de Algemeen Rijksarchivaris in de European Archives Group (EAG) en in de European Board of National Archivists (EBNA)
Lid van de EAG data protection subgroup
Areas of expertise
Internationale samenwerking
Publications
Karin VAN HONACKER (ed.), THE RIGHT TO BE FORGOTTEN VS THE RIGHT TO REMEMBER.Data protection and archiving in the public interest, Brussels (ASP éditions), 2018

Karin VAN HONACKER, GDPR and processing for archiving purposes in the public interest. An introduction, in: Karin VAN HONACKER (Hg.), THE RIGHT TO BE FORGOTTEN VS THE RIGHT TO REMEMBER.Data protection and archiving in the public interest, Brüssel (ASP editions), 2018, S. 11-26