National Archives of Belgium
–
DiVa: Digitization & Valorisation
Contact
Rue de Ruysbroeck 2-61000 BRUSSELS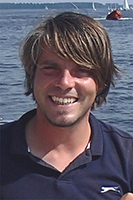 Biography
Prof. dr. Iason Jongepier studeerde in 2009 af als geograaf aan de Universiteit Gent. In 2015 is hij gedoctoreerd in de geschiedenis (Universiteit Antwerpen) met een interdisciplinaire thesis rond de interacties tussen mens en natuur in de vroegmoderne Wase polders. Tijdens dit doctoraat specialiseerde hij zich in Historisch GIS wat hij vervolgens als postdoctoraal onderzoeker toepaste binnen diverse wetenschappelijke projecten (Antwerp Time Machine, GIStorical Antwerp, B-magic, CLARIAH-VL, …). Sinds september 2020 is hij aangesteld op de FED-tWIN 'Digital Maps and Archives - Activating Cartographic Collections in a Digital World', een programma waarbinnen de brug tussen de academische wereld en archieven geslagen wordt. In het kader van deze aanstelling is hij voor 50% als 'tenure track docent' aan de Universiteit Antwerpen en voor 50% aan het Rijksarchief (DiVa) verbonden. Als docent zal hij opleidingsonderdelen rond 'Digitale Historische Geografie' doceren, terwijl hij in het Rijksarchief mee zal werken aan een verdere uitbouw van onder meer CARTESIUS en onderzoek zal doen naar innovatieve digitalisatiemethoden van historisch kaartmateriaal.
Tasks
FED-tWIN 'Digital Maps and Archives - Activating Cartographic Collections in a Digital World'
Het voorbije decennium heeft de massale digitalisering in hoge resolutie van historische kaarten, bijvoorbeeld via het CARTESIUS-project, het grote publiek in staat gesteld om kaartcollecties te verkennen met behulp van gemakkelijk toegankelijke geografische zoekmachines. In de komende jaren is het echter tijd om een stap verder te gaan: zorgvuldige georeferentie en vectorisatie van kaarten, evenals de (semi-)automatische herkenning van hun inhoud zullen ons in staat stellen om kaarten te koppelen aan andere soorten digitale inhoud. Initiatieven zoals de European Time Machine bid streven naar een technologische doorbraak die de 'Big Data of the Past' creëert. Voortbouwend op de bestaande inspanningen op het vlak van digitalisering en geolokalisatie wil de FED-tWIN 'DIGHIMAPS' het potentieel van digitale cartografische collecties als sleutel tot het ontsluiten van dit nieuwe digitale universum onderzoeken.
Publications
Jongepier Iason, Soens Tim, Temmerman Stijn, Missiaen Tine (2016) 'Assessing the planimetric accuracy of historical maps (sixteenth to nineteenth centuries): new methods and potential for coastal landscape reconstruction', Cartographic journal, 53 (2), pp. 114-132.

Janssens Ellen, Jongepier Iason (2015) 'GIStorical Antwerp: historisch GIS als laboratorium voor de stadsgeschiedenis', Stadsgeschiedenis, 10 (1), pp. 49-62.

Jongepier Iason, Wang Chen, Missiaen Tine, Soens Tim, Temmerman Stijn (2015) 'Intertidal landscape response time to dike breaching and stepwise re-embankment: a combined historical and geomorphological study', Geomorphology, 236, pp. 64-78.

De Keyzer Maïka, Jongepier Iason, Soens Tim (2014) 'Consuming maps and producing space: explaining regional variations in the reception and agency of mapmaking in the Low Countries during the medieval and early modern periods', Continuity and change: a journal of social structure, law and demography in past societies, 29 (2), pp. 209-240.

Jongepier Iason, Soens Tim, Temmerman Stijn (2012) 'Poldercartografie: de rol van kaarten bij bedijkingen en landschapstransformatie', in: Ooghe Bart et al. (eds.), Van brouck tot dyckage: vijf eeuwen Wase polders, Waasmunster, pp. 45-67.

Jongepier Iason (2015) 'Drowned but not deserted: interactions between social and ecological processes of estuarine landscapes after flooding. Test-case: the Waasland polders on the left-bank of the river Scheldt (sixteenth to nineteenth centuries)', Antwerpen, Universiteit Antwerpen, Faculteit Letteren en Wijsbegeerte, Departement Geschiedenis, 262 p.

Buelens-Terryn Margo, Jongepier Iason, Van Damme, Ilja (2019) 'Lichtbeelden voor de massa. Nieuw onderzoek naar politieke toe-eigening en ideologisch gekleurd gebruik van de 'magische lantaarn' in Antwerpen en Brussel (c.1860-c.1920)', Stadsgeschiedenis, 14 (2), pp. 122-136.

Soens Tim, De Block Greet, Jongepier Iason (2019) 'Seawalls at work: envirotech and labor on the North Sea coast before 1800', Technology and culture, 60 (3), pp. 688-725.