State archives in Leuven
– Head of Service
Contact
Vaartstraat 243000 LEUVEN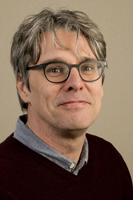 Tasks
Representative of the State Archives at the Cartesius projet
Areas of expertise
Ancien Régimearchief
Archiefwetenschap
Collectiebeheer
Digitalisering
Hedendaags Archief
Toezicht en advies
Publications
De communauteiten van tertiarissen van Sint-Franciscus. Monasticon. I. De grauwzusters, Brussels, 2002.

De orde van de allerheiligste Maagd Maria of (Franse) annuntiaten: monasticon (Bibliografsche inleiding tot de Belgische kloostergeschiedenis nr. 8), Brussels, 1998.

Ed. with M. HAMELEERS, P. ALKHOVEN and R. KRUK. Cartografie. Visie op de kaart. S@p jaarboek 15, The Hague, 2016.

Het Belgische onderzoek naar de geschiedenis van mannelijke religieuze instituten vóór 1797, in Revue belge de Philologie et d'Histoire, 86 (2008), 793-807

Inventaris van het archief van de Sint-Pietersabdij te Gent: "registers" (reeks I en de delen en banden) (944/946-1796), Brussels, 2009.

Parochies en bidplaatsen in het bisdom Terwaan vóór 1300. Een repertorium van de parochies van de dekenijen Veurne en Ieper en een overzicht van alle bidplaatsen van het bisdom, Brussels, 1999.

with M. PRENEEL, (z)onder stof en (z)onder water. Basiscursus archiefbehoud voor de medewerkers van het rijksarchief, Brussels, 2007.

with P.A. TALLIER, ed., Het Zoniënwoud in kaart gebracht. La forêt de Soignes à la carte. De wandkaart van Ignace Vander Stock uit 1661. La carte monumentale d'Ignace Vander Stock, Brussels, 2013

with R. KRUK, Cartesius.be. Een wereld van oude kaarten online. Oude kaarten en luchtfoto's van België en Midden-Afrika, in Meta, 2016, 8, 26-30.