Contact:
Parc des Expositions, 9
6700 Arlon

How to get there
T : +32 (0)63 22 06 13
F : +32 (0)63 22 42 94
archives.arlon@arch.be
Opening hours:

Click here for the complete list of closed days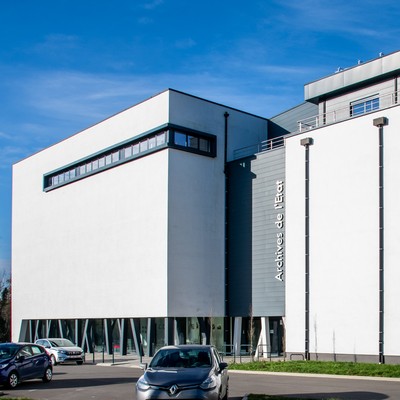 See all photos
Best Wishes 2019
The National Archivist and the staff of the State Archives wish you a wonderful year 2019 !
The State Archives holds a real treasure of cartographic materials, but handing out original maps and plans in the reading rooms bears the risk of deteriorating the state of conservation of these documents. Indeed, repeated unrolling and rolling-up of these maps and plans that are sometimes of considerable size has taken its toll on the documents, which called for a large-scale digitization campaign. In recent years, some 60,000 maps and plans were digitised. This number increases steadily. Roughly 44,000 of these digital images have been processed and are now available for research.

&nbsp
Read more
In order to let the general public discover the rich archival heritage on the First World War, the State Archives launched a new dedicated website in August 2014: http://14-18-wallonie.arch.be. It is filled with a variety of interesting documents, including letters, posters, photographies, minutes, etc. The website is in French.

&nbsp
Read more
Head of Service: Michel Trigalet.
Archivists: François Moreau, Vincent Pirlot.
Reception, Reading Room, Stacks Management and Maintenance: Bernadette Bauvir, Coralie Henrard, Michaël Iwanyk, Stéphane Krier, Christelle Talbot.
Project Archives locales de Wallonie: Michaël Blanchart, Mathieu Natale, Astrid Saint-Viteux.